Are you tired of feeling self-conscious about your skin? Do you want to achieve a flawless, glowing complexion? Look no further than our facial treatment!
Our expertly crafted treatment utilizes the latest techniques and ingredients, leaving you guaranteed, unparalleled results. Say goodbye to dull, lackluster skin and hello to a revitalized, radiant complexion.
In this post, we'll walk you through the benefits of our facial treatment, what to expect during your appointment, and aftercare tips to maintain your results. Get ready to transform your skin with us!
What is a Facial Treatment?
Facial treatments are professional skin care services that aim to improve the health and appearance of your skin. A facial treatment typically involves cleansing, exfoliation, and extractions, followed by applying specialized products to nourish and hydrate the skin.
Depending on your skin type and concerns, a facial treatment can be customized to address issues like acne, sensitivity, and uneven skin tone. Regular facial treatments can help to prevent premature aging and promote a clear, more radiant complexion.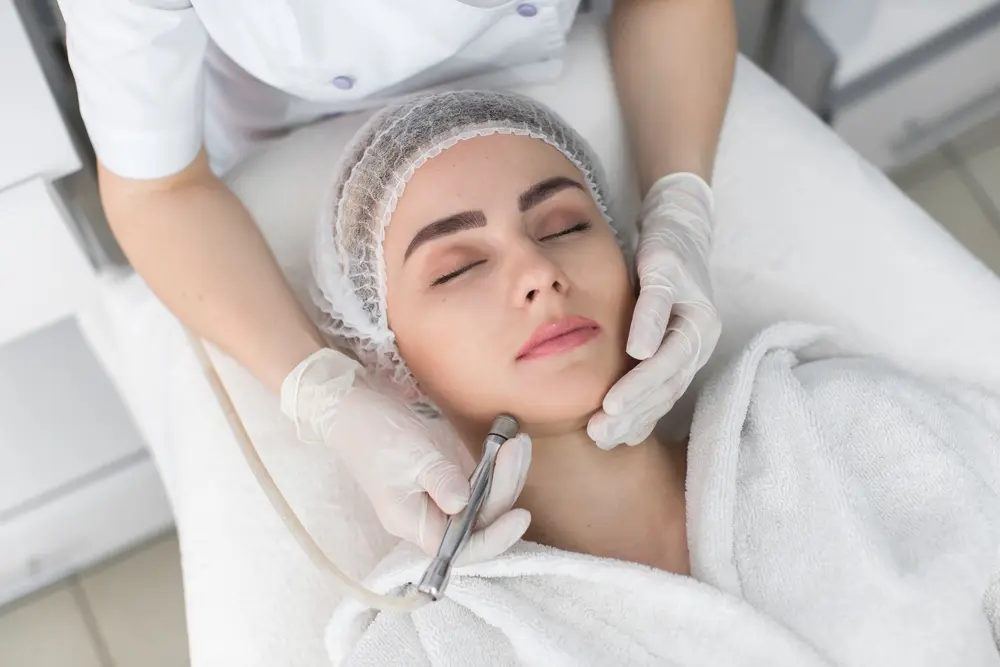 Different Types of Facial Treatments in the Market 
Classic Facial: A basic facial includes cleansing, exfoliation, and moisturization and is ideal for deep pore cleansing. Most classic facials also include skin analysis, facial massaging, and high-frequency toner.
Anti-Aging Facial: A facial treatment that targets signs of aging, such as fine lines and wrinkles, using specialized products and techniques. Often using effective and non-invasive derma pen treatment, this facial rejuvenation service achieves healthier, younger-looking skin after just one treatment.
Acne Facial: A facial treatment that focuses on reducing the appearance of acne and preventing future breakouts.
Facial Endosphere: This facial rejuvenation treatment relaxes and tones your facial muscles while reducing puffiness. It can also help with the reduction of the double chin.
Chemical Peel: A type of facial treatment that uses a chemical solution to exfoliate the skin and improve its texture.
Hydra Facial: A facial treatment that uses a patented technology to deeply cleanse, exfoliate, and hydrate the skin, leaving it with a youthful, radiant glow.
Radiofrequency Facial: A non-invasive facial treatment that uses radiofrequency energy to stimulate collagen production and tighten skin, reducing the appearance of wrinkles and fine lines.
Carbon Laser Facial: A facial treatment that uses a special carbon cream and laser technology to exfoliate the skin, reduce pore size, and improve skin tone.
Each facial treatment offers unique benefits and is tailored to meet specific skincare needs. Consult with a skincare professional to determine which facial treatment is right for you.
Preparing for Your Facial
Before your facial treatment, it's important to properly prepare your skin to ensure the best possible results.
This includes avoiding any harsh skincare products or treatments for at least 48 hours before your appointment, staying hydrated, and communicating with your esthetician about any concerns or sensitivities you may have.
Additionally, be sure to arrive with a clean face, free of makeup or other products, to allow your esthetician to properly assess and treat your skin.
Aftercare Tips
Aftercare is just as important as preparation when it comes to getting the most out of your facial treatment. Here are some tips to ensure optimal post-treatment care:
Avoid touching or picking at your skin, as this can cause irritation and possibly infection.
Stay hydrated to help your skin heal and maintain its newfound glow.
Protect your skin from the sun with a broad-spectrum sunscreen.
Use gentle, non-irritating skincare products to maintain your skin's health and vitality.
Follow any specific aftercare instructions provided by your esthetician.
Conclusion
Getting a facial treatment is a great way to pamper yourself while also taking care of your skin's health and beauty. With a variety of treatment options available, there is sure to be a facial that's perfect for your individual needs and preferences.
Remember to take care of your skin before and after your treatment, and always follow the guidance of your esthetician.
If you're interested in booking a facial treatment, contact us at Mestiza Laser Clinic with locations in Miami, FL and Astoria, NY at 786-801-4479 and 718-697-1234.
We would love to help you achieve the glowing, healthy skin you deserve!